The Hardware Pages
Analog Devices AD724, by Ludovico Caledon

Last updated on November the 7th, 2001.
---
About:
  This application circuit and all files here presented have been done by Ludovico Caledon, so any question about it should be mailed to him. I'd like to thank Ludovico for his effort. This was really missing from this site! Ok, on with the show...
---
Schematics:
  This circuit's schematics can be seen below. Click on the picture for a higher resolution picture.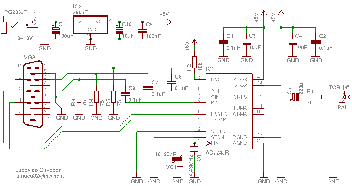 ---
Printed Circuit Board:
  Drawn using Eagle 4 for Linux.
  Program files can be downloaded here. Please note that the program [Eagle] complains about errors and inconsistencies between the scheme and the board. This is ok.
  Also available, the Postscript file for the copper tracks. Below you can see a picture of the actual copper tracks and the components' layout pictures. Click on a picture to get a higher resolution version.
| | |
| --- | --- |
| | |
| 1-Copper routes | 2-Components place |
  Also note that the views are from the copper side. Everything, except the AD724, should go on the other side.
  Maybe the size of the holes is not optimal for your components (in particular the varying capacitor and the video connector). Check before printing the PCB.

  This circuit, derived from the AD724 datasheet, converts RGB data to composite video in PAL format. Note that NTSC and S-Video, although supported by the AD724, are not provided by this circuit.

  This circuit needs a power supply of 8-18VDC.

  As usual, to handle the PostScript file, you can get Ghostview, which uses Ghostscript. Check out their home page.
---
Part List:
  Please, download the list supplied by Ludovico.
---