.: "Unnamed" (Gotham) MAME
Jan 5th, 2003
The Cabinet
This is a custom 2-piece cabinet that I designed. The cabinet is about 5'-9", lower unit is 20" wide overall, and the upper unit is 24 1/2" wide overall. The lower unit has a cutout for a "case mod" look that will have a Plexiglas window and cold cathode tube lighting.
The cabinet uses a car amp with dedicated power supply and a total of 6 speakers for sound. Fully relay-controlled power system for 1-button startup of PC, monitor, power supplies, and amplifier. External volume control was added below control panel.
The monitor is a Wells-Gardner D9100 19" svga that plugs directly into the video card.
| | | |
| --- | --- | --- |
| Unfinished upper and lower units assembled | | |
| Lower unit | Partially finished | Close up of lower unit. Speaker grilles not installed. |
| View from rear access hatch showing motherboard installation. | Another view from rear access hatch. Car amp is shown on right side of cabinet. | View of bottom of cabinet showing dual power supplies. All cables and wiring encased in spiral wire wrap. |
| View through front window showing motherboard. | View through rear hatch showing motherboard. | |
| | | |
Control Panel
Joysticks - Happ Perfect360's with Wico balltop handles
Buttons - Happ horizontal
Spinner - Oscar Vortex w/ Tempest knob through USB
Encoder - I-PAC2
Overlay - PartsExpress black vinyl
Wire - 22ga stranded (multi-conductor sheathed cable)
RF Keyboard & mouse combo - RF receiver under control panel
USB hub for RF keyboard & USB spinner
Finished Cabinet
PDF plans: Upper unit | Lower unit
Artwork Plans
This project is to be named the "Gotham" cabinet and the following artwork is planned for it:
Control panel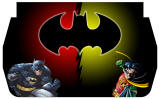 Artwork layout - Bat symbol for upper sides and Gotham text on lower sides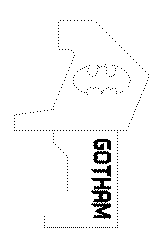 Upper side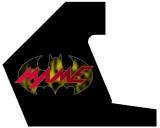 Lower side (rotated)


Marquee