.: Spinner Support
MAME setup :: Installation :: x-y dual spinners
mice dual spinners :: Linux help :: Legacy Support (Model 1 &2)
I. You may need to enter the Analog Controls configuration menu in MAME (by pressing the 'Tab' key while the game is running) and select Reverse Dial "ON". This is only necessary if the control is not moving in the correct direction.
II. For most games with the Model 3, the Analog Controls settings should be around:
| | |
| --- | --- |
| | Speed: 1-10 |
| | Sensitivity: 120-150 |
Of course you can adjust the settings to exactly how you want, but this is a good starting point. If your speed setting is too high, you may experience "backspin", which is when your spinner temporarily moves in the opposite direction.
The Vortex spinner may require minor tweaking of the MAME default Analog Controls settings, but many games will play just fine with the defaults.
III. Arkanoid I/II settings:
Turn off mouse acceleration
- In Windows, go through the Control Panel
- In DOS, use a mouse driver which you can disable mouse acceleration.
Set the Analog Speed in the MAME configuration menu to "1".
Adjust the Analog Sensitivity in the MAME configuration menu until it "feels" right. This turns out to be around 150 and gives very good results.
Installation and connection document.
:: PDF format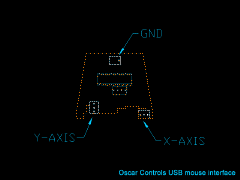 Click for larger sketch of USB mouse interface board and connections.
USB
By using u_rebel's specialized MAME, Mame:Analog+, you can connect dual spinners using a split axis under Windows 98/Me/2000/XP.
NOTE: The multiple mice feature of Analog+ does not work under NT/2000/XP, so don't confuse axis splitting with multiple mice!
USB
Multiple, independent USB spinners can be used under Win98 by using Mame:Analog+. This is currently the only known way that multiple USB spinners can be used, and have each spinner assigned to a separate player.
If multiple USB spinners are connected to a PC not running Mame:Analog+, all the spinners will still function, however each one will only be usable by Player 1.
For more information on Mame:Analog+ and it's requirements, please visit the website at: http://www.urebelscum.speedhost.com
This section is new and the information is fairly limited so far. Additional information is welcome at Email for information.
Model 3 & Vortex w/o USB
Since the Model 3 & Pro connect to your PC via an external interface or encoder, the interface or encoder must be supported under Linux for it to operate.
Hagstrom ME4 - Load the Logitech 3-button PS/2 driver, as this seemed to give better performance than the Generic PS/2 driver. This was tested under Mandrake 8.2.
Opti-PAC - Load the Generic serial mouse driver for the Opti-PAC interface. This information was provided by Ultimarc.